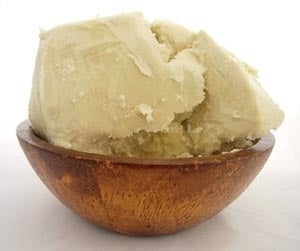 Shea Butter is one of the greatest natural moisturizers. It comes from the nuts of the Shea-Karite tree. When purchasing it, you should look for only 100% raw unrefined shea butter. Natural shea butter will normally have a nutty aroma and the color may vary from an off-white to yellowish color.
Many different haircare enthusiasts make their own shea butter mixes to use on their hair and skin. I personally don't like to use Shea Butter on my skin because I prefer something that is a bit lighter for my body. But for my hair, I love using a shea butter mix from time to time. My current mix is very simple. It consists of 60% shea butter, 20% coconut oil, 10% olive oil, and 10% avocado oil. The end result is a creamy consistency at room temperature. Searching sources like YouTube, you can find lots of different recipes for shea butter mixes. Even without mixing shea butter with oils, it is great for your hair and gives your hair noticeable lustre. It doesn't clog pores so it is good to use on the scalp as well.
When I use this to moisturize my hair, there is no need to seal because it already contains my three favorite oils and does the job of moisturizing and sealing in one. Because this mix tends to be a bit heavy, I cannot use it on a daily basis but I will pull it out when I feel my hair needs some extra TLC. I also love using it to moisturize after I have blow-dried my hair because the heavier moisturizer kind of compensates for some of the moisture I lost while blow drying without leaving my hair damp like a water based moisturizer would.
So that's my friend Shea!